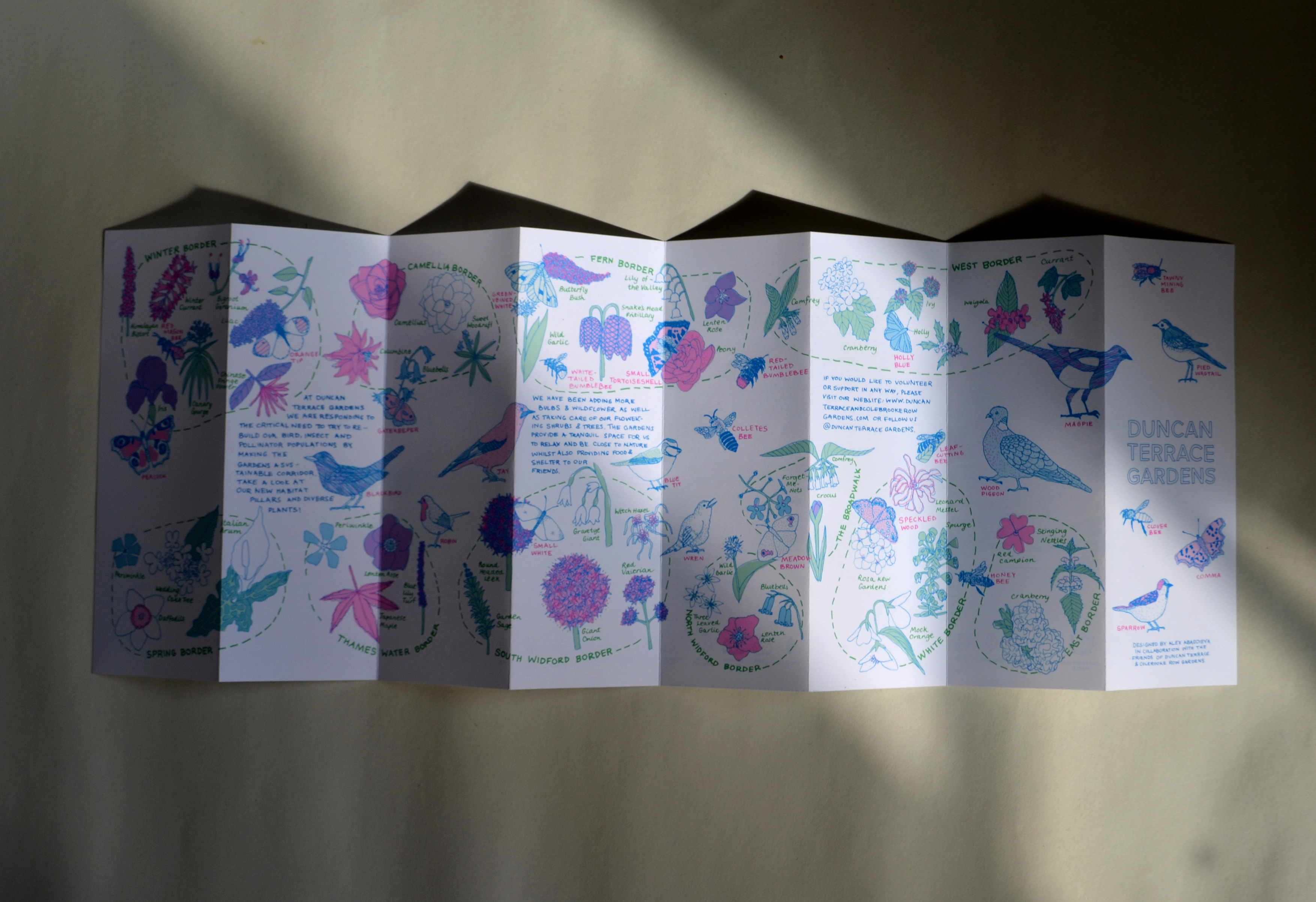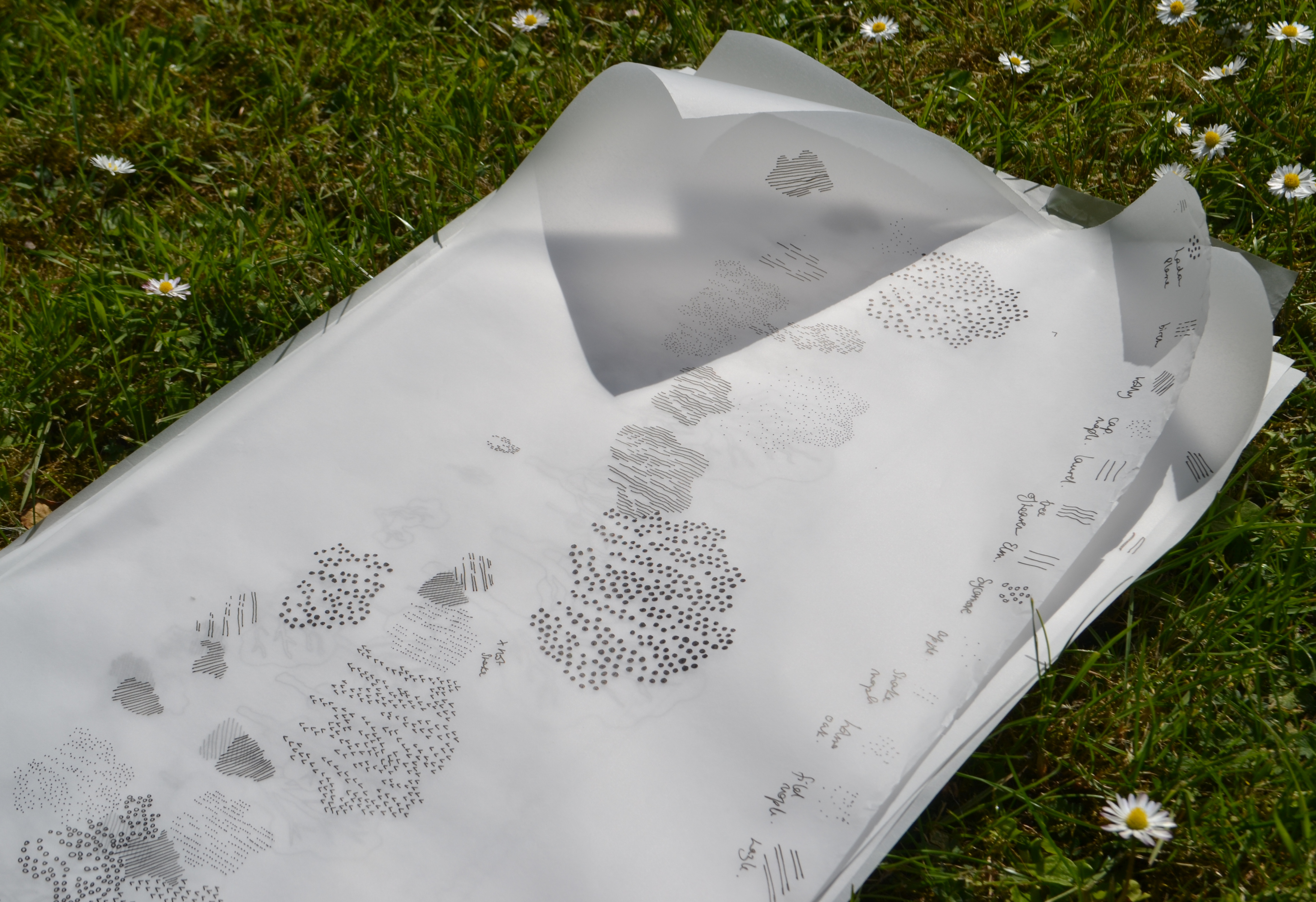 Natureways
MA Final Project
Your attention is valuable — and profitable. How can we escape the attention economy? Public parks might be the answer.
Duncan Terrace Gardens is a 'nature highway', a green corridor that allows London's flora and fauna to travel safely through the capital. Where London's human networks are well charted, our nature networks are far less documented.
In collaboration with the community that cares for the park, I designed a map to illustrate its diverse inhabitants. During my investigation, I discovered that physical drawing is a powerful method for learning to identify new species. Identification can allow us to understand these multi-layered habitats, opening up a
new
curiosity gap that drives our attention. My drawings evolved into a map of varying scales to aid visitors and volunteers in identifying the park's diverse trees, nectar sources, birds, and pollinators. Observation, identification, and awareness can initiate what Richard Powers calls 'plant consciousness', a powerful sense of connection to the living world that fosters respect and curiosity.
View Online Graduate Showcase
Louis Jadot Campaign
Student Design Competition
The French winemakers, Louis Jadot, held a design competition at CSM to attract customers in their late twenties. Louis Jadot purchased the IP for my proposal.
My concept was to use a dramatic statement to catch the viewers' attention and educate them about the brand's sustainable production. I explored this approach through cyanotype printing. The technique requires time, sunlight and water to develop a print, reflecting the brand's artisanal wine production process. Like Louis Jadot's wines, each print is entirely unique.
Watch full video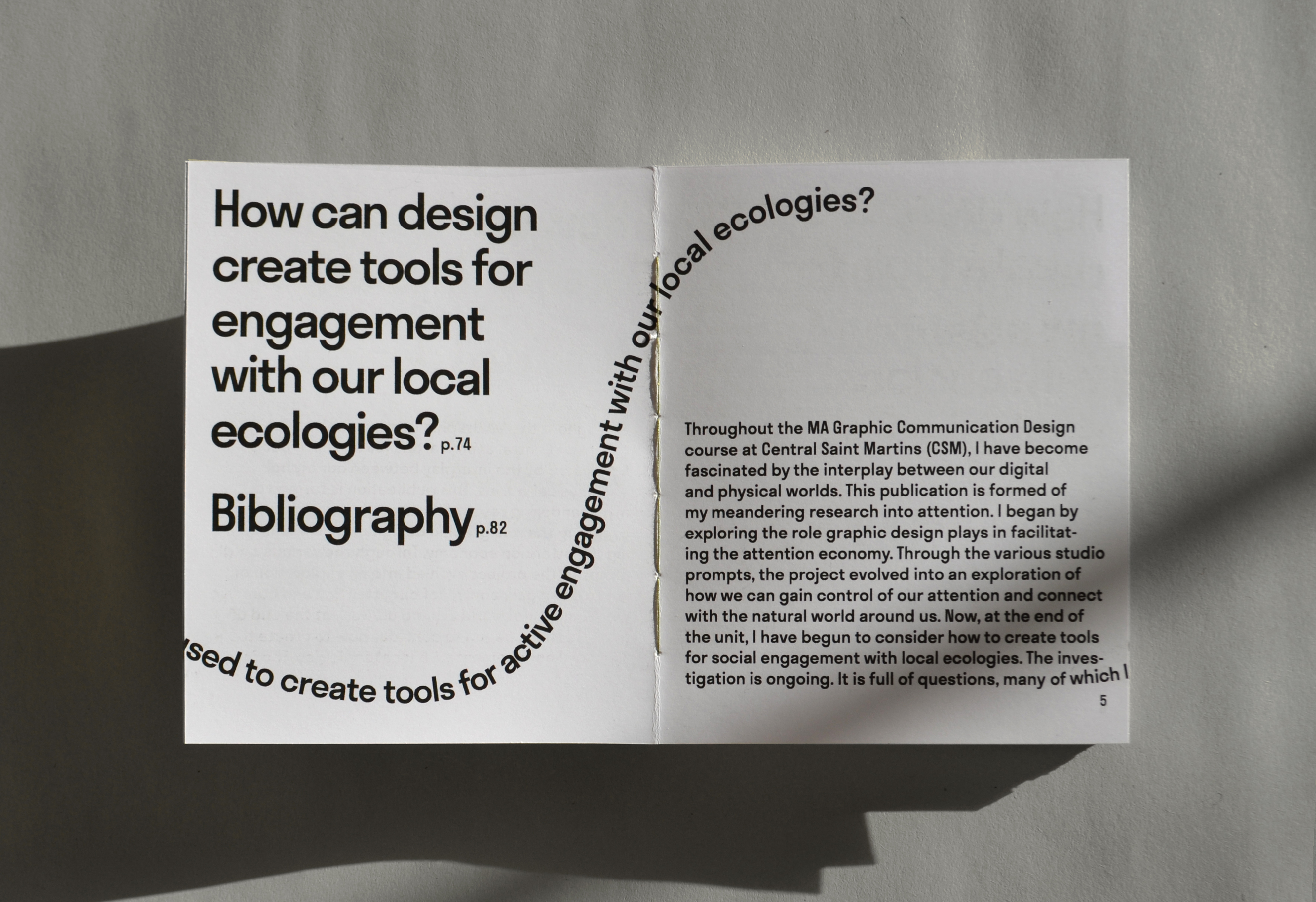 From Consumption to Connection
MA Research


Throughout my MA, I became curious about how we can take control of our awareness in the attention economy. I explored how I could use the process and form of design to connect with my natural environment.

We instinctively know that nature is good for us, and there are substantial studies to support this. Yet, we spend more time indoors than ever before, surrounded by technology designed to keep us there. How can the slow, cyclical world of nature captivate our curiosity? Could graphic communication design be used to stimulate engagement with local ecologies?


MA GCD In Progress 2023
Design & Editorial

I was part of the design and editorial team for the annual MA Graphic Communication Design In Progress publication.

This year our concept was 'choose your own adventure'. As many of the students in our cohort have been exploring interaction, we wanted to make the reading experience an interactive journey. After reading an extract of a student's work, the reader is given two options for how to progress. They take a meandering journey through our work.

Design & Editorial team:
Dellana Arievta
Amandine Forest
Parth Gupta

200 copies risograph printed & bound at CSM Publications by the team.

Cruella
Title Sequence Design Experiment

The 2021 film Cruella ignited my curiosity about the role fashion plays in storytelling. I wanted to encapsulate the central themes of fashion and revenge within the design of this fictitious title sequence.
As Didot is a typeface synonymous with high fashion, I modified the serifs and proportions to convey Cruella's gorgeous but vicious character. Throughout the sequence, the garment patterns are slowly constructing the letterforms of Cruella.
Watch full video